Crooked Deals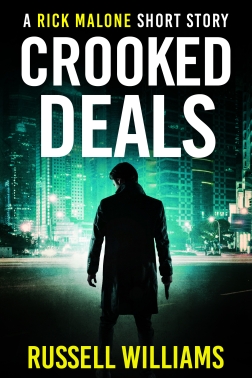 Buy from:

Detective Rick Malone is determined to bring down a money laundering enterprise. During the course of his investigation, he discovers the source of their illegal funds--the sale of cocaine. Up against ruthless criminals, outnumbered and outgunned, Malone realizes the only way to bring them to justice is in cold blood.

Crooked Deals is the first short story in the Rick Malone crime thriller series and can be read as a standalone. If you like tough guy heroes, fast-paced action, and deadly confrontations, then you'll love Russell Williams' dark, gritty tale.
READER REVIEWS

"Utterly gripping ..."

"Tough to put down."

"An intense short crime thriller ... a must-read."

"A fast-paced crime thriller ... a page turner."

"A top-notch crime thriller."
$1.99 USD