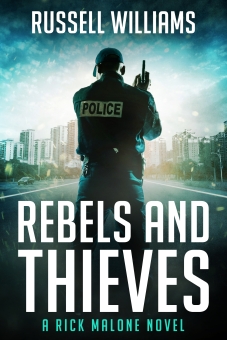 Keeping the public safe from criminals takes determination and bloody knuckles ...
Detective Rick Malone is determined to bring down a corrupt hedge fund. During the course of his investigation, he discovers their sinister plan to make a fortune in the stock market, one that involves committing fraud, theft, and mass murder. With dangerous forces closing in, he vows to bring them to justice, no matter the consequences.

Rebels And Thieves is the first book in the Rick Malone crime thriller series and can be read as a standalone. If you like tough guy heroes, fast-paced action, and deadly confrontations, then you'll love Russell Williams' dark, gritty tale.